These instructions cover the "Pairing" procedure for EMT16, EMT16Plus, EMT16X and Bravo2 machines if they are not recognized by the Melco software. This does not apply to original mainboard styles used in AMAYA (Red/White), XT, XTS, Bravo (1st Generation) or early EMT16 and Bravo (2nd Generation) machines produced before June, 2016.
Before proceeding, make sure you have already followed the machine detection troubleshooting steps listed here which resolve most detection situations.
"Pairing" Procedure
Network Pairing is manually performed by simultaneously pressing the center TARGET and the RED STOP buttons on the keypad for 7 seconds (see image below). You'll hear 5 beeps, indicating that the machine has been Un-Paired. The Melco software may automatically detect the machine at that time. If not, press the same buttons again for 7 seconds and that will initiate Pairing to your computer.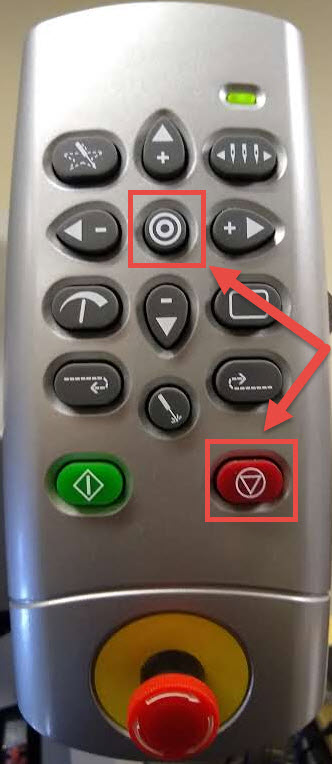 Advanced "Pairing/Claiming" Function
Important:  The information below involves changes to the Windows Registry. This change should only be made by someone who is experienced with making Windows Registry modifications.
If the Pairing Procedure above does not allow the machine to be detected, these advanced steps can be followed.
Edit the Windows Registry and go to the following key:
HKEY_CURRENT_USER\Software\Melco\MC\Settings
Change the value of EnetAdvancedMode from "0" to "1"
Now, in the Melco software (Melco OS or Bravo OS) you will see additional "Unclaimed" and "Claimed" boxes under Tools > Options > Ethernet
To move the Unclaimed machine to the Claimed box, highlight the machine name on the left and click the top button with the right-arrows  >>>>    The machine will then appear in the Claimed box and is ready to use.
Before proceeding, it is important to go back into the Registry and change the value of EnetAdvancedMode from "1" back to "0"