Proper adjustment of the Presser Foot is necessary for the machine to sew correctly and produce proper sew quality. If the Presser Foot is not correctly adjusted for the material thickness some of the issues might include but are not limited to: Thread Breaks, Needle Breaks, Mis-Starts, Missed Stitches, Presser Foot Burn, Loopy Thread, Registration Issues, False Bobbin Breaks, Not Detecting Bobbin Run Out, Not Detecting Thread Breaks, Missing Trims, Slingshots, and Bird Nesting.
Review this video on Presser Foot adjustment for the Melco software interface that you run: Advanced Interface (OS) or Simplified Interface (UI) Also: Switching Between The Advanced (OS) And Simplified User Interface (UI)
To adjust the Presser Foot correctly, follow the steps below (Advanced UI):
1. Make sure that the Melco OS program is running on your computer and your Melco embroidery machine is powered ON.
2. Install your hooped fabric.
3. You can set the Presser Foot height in the middle of a design, but it is recommended to do it in a clear spot without creases or previous stitches if possible.
4. In Melco OS, click on Tools > Maintenance as shown below.
5. Click on the Head Timing
6. Lower the needle to the Bottom Center position by holding down the Adjust Button and the Down Arrow.
7. Rotate the Presser Foot Eccentric as far counter-clockwise as it can go. This sets it to the lowest position. You do not need to be on Needle 16 to do this.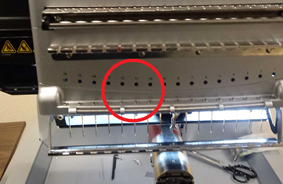 Presser Foot Eccentric on needle 16 Presser Foot Eccentric hidden behind the case
8. Rotate the Presser Foot Eccentric clockwise until the Presser Foot is not touching the fabric, and then go down 1 click, so it is touching but as little as possible.
9. Set your Presser Foot to allow for the highest point in the design.
10. If you are sewing Caps, Set the Presser Foot to the Cap. You do not want the Presser Foot pushing too hard into the seam of a cap.
11. If you are sewing 3D Puff, raise the Presser Foot all the way to the 9th (final) click.
12. If you are sewing on Napped Fabric, set to Presser Foot to the underlying fabric and not the hairs. If you cannot see where the Presser Foot lifts off the fabric, set the Presser Foot to where the spring tension is released.
Example of Napped Fabric
13. Click the Head Up button to bring your needle up.
14. Click the OK button to close the menu.
15. Your Presser Foot is now set correctly for the current material thickness. If you change fabric or backing type/thickness/number of layers, check the setting of the Presser Foot again, as it might need to be changed accordingly.
16. Presser Foot height may vary slightly with each machine and with each Operator. It is dependent on many variables such as thread type and thickness, fabric, needles, and Operator preference.