There are several styles of trimmers used in the current generation of Melco embroidery machines, including original AMAYA (Big Red), XT, XTS, Bravo, EMT16, EMT16Plus and EMT16X.  The trimmers along with the replacement trimmer part numbers are identified here:
NPT (Needle Plate Trimmer)
This trimmer is used in EMT16X machines.
S95 Trimmer: (PN#34666-01 Kit, Thread Cutter Blade)
This trimmer is used in newer Bravo,  EMT16 and EMT16 Plus machines.
ACA Trimmer: (PN#33519 ACA Trimmer Module, Assembly)
This trimmer is used in all XTS and original Bravo machines, but some XT machines might have been converted to this trimming system.
XT Trimmer: (PN#32748 Knife, Trimmer)
This is the original trimmer for XT machines.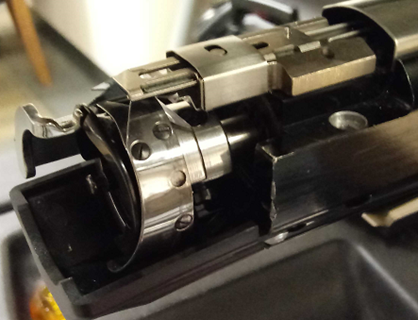 XT Trimmer Drive Assembly
If you also need to determine what type of Trimmer Drive Assembly you have, check below:
Gen1 Trimmer Drive Assembly
Gen2 Original Trimmer Drive Bracket Upgrade
Gen3 Latest Trimmer Drive Bracket
Original AMAYA (Big Red): (PN#10186 Knife, Moveable)
This is the trimming system for original Red/White AMAYA.