IPv6 network protocols must be enabled for all Melco EMT16X, EMT16Plus, and newer EMT16 and Bravo2 models. Without IPv6 functioning, Melco embroidery machines will not be able to communicate with the computer.
Microsoft Knowledgebase Article 929852 provides specific details on enabling/disabling IPv6 protocols. Microsoft specifically notes that "Internet Protocol version 6 (IPv6) is a mandatory part of Windows Vista and later versions of Windows. We do not recommend that you disable IPv6 or its components. If you do, some Windows components may not function."
Here are the steps to check for, and enable IPv6 if it has been disabled on your Ethernet Adapter:
Open Windows' Network and Sharing Center. Click on "Change Adapter Settings":
Right-click on the Ethernet adapter that your Melco embroidery machine is connected to. Make sure that the IPv6 protocol is checked:
If IPv6 was unchecked, checking that box can resolve the detection issue. A computer restart may be required after checking that box.
If IPv6 is already checked, Right-click on the Ethernet adapter again and choose "Status":
Click on the "Details" button:
Observe the "Link-local IPv6 Address" line below. If there is no information listed on that line, follow the Microsoft Knowledgebase Article 929582 instructions to enable that protocol.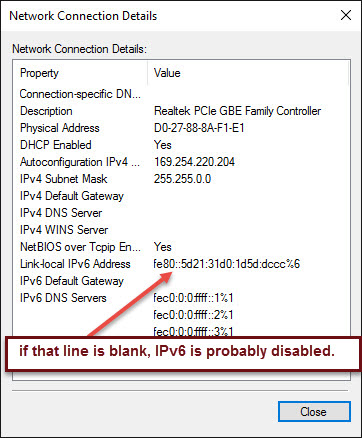 Here is Microsoft's overview of the Internet Protocol version 6 (IPv6) technology.
Also note that there have been reports of VPN (Virtual Private Network) software automatically disabling IPv6. Check with your VPN software provider if you encounter that situation.