This is the Recommended Bobbin Case for all Melco AMAYA, XT, XTS, Bravo and EMT16 Models.
If you are getting inconsistent measurements when using the Bobbin Tension Gauge or using the Wrist Flick, follow the steps below. Make sure to follow the instructions for Troubleshooting the Bobbin first.
Take your Bobbin out of the Bobbin Case. 
Loosen the Tension Screw on the Bobbin Case till the Tension Spring starts to pull away from the case. You do not need to remove the screw. 
Clean under the Tension Spring using a business card or a piece of backing. Do not use any hard material to clean the case that could scratch it. Spraying canned air into the spring can also help. 
Clean the slots on the inside of the case.
Inspect the case for damage, this usually happens if the case was dropped. If you notice damage use a different case. Most damage or warping to the case won't be noticeable by eye, so you might want to try another case if you continue to have issues.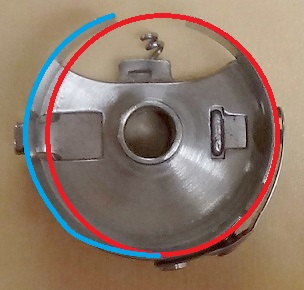 Put the Bobbin back into the Case and follow the Troubleshooting the Bobbin steps to set the correct tension.