Mighty Hoops from Midwest Products are compatible with all Melco AMAYA, XT, XTS, Bravo, EMT16 and EMT16Plus machines. Mighty Hoops are available on the shopmelco.com site.
The latest update to your Melco OS or Bravo OS software is recommended for the most recent list of supported Mighty Hoops. Look in the Hoop Manager (Hoop Setup) screen to find your list of supported hoops. You can also manually update the list of hoops within your software.
Most (but not all) Mighty Hoops will list the dimensions of Height by Width (HxW). Melco lists Width by Height WxH.
There are several Mighty Hoops instructional videos available on the Midwest Products site.
Mighty Hoop Brackets for Melco Machines
Standard Brackets for Mighty Hoops size 10x10 and smaller are PN# MT400. Long brackets are PN# MT475. Replacement brackets available from Midwest Products. With the incorrect bracket the hoop might not fit in the Melco hoop arms.
Review this Mighty Hoop Brackets Article detailing various bracket styles and adjustment spacers from Midwest Products' site.
Mighty Hoop Back of Hoop "Backing Holders"
Here are the Mighty Hoop Part Numbers and Instructions (.pdf file below).

MH-425-BH - 4.25" Backing holder - Melco PN# 35357 available on ShopMelco
MH-55-BH - 5.5" Backing holder - Melco PN# 35359 available on ShopMelco
MH-725-BH - 7.25" Backing holder - Melco PN# 35361 available on ShopMelco
The Melco Applications Team also discusses these in this video.
Confirmation
The Mighty Hoop 16" x 17" will be listed as Mighty Hoop (16.625 x 17.25in) in the software.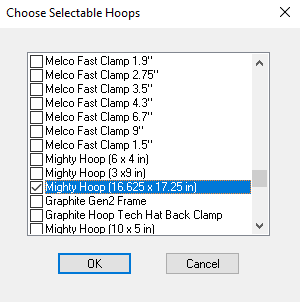 Sew Field:
Hoop Name: Mighty Hoop (10 x 10in)
Part Number: 34863
Sew field: 8.75 x 8.75 in
Hoop Name: Mighty Hoop (10 x 5in)
Part Number: 35242
Sew field: 9.4 x 4 in
Hoop Name: Mighty Hoop (12 x 15in)
Part Number: 35248
Sew field: 11.6 x 14.8 in
Hoop Name: Mighty Hoop (13 x 11in)
Part Number: 34847
Sew field: 11.8 x 9.8 in
Hoop Name: Mighty Hoop (13 x 4.25in)
Part Number: 34862
Sew field: 11.8 x 3.1 in
Hoop Name: Mighty Hoop (13 x 8in)
Part Number: 34846
Sew field: 11.8 x 6.7 in
Hoop Name: Mighty Hoop (15 x 12in)
Part Number: 34848
Sew field: 14.8 x 11.5
Hoop Name: Mighty Hoop (16 x 13in)
Part Number: 34849
Sew field: 15 x 11.8 in
Hoop Name: Mighty Hoop (16 x 14in)
Part Number: 35251
Sew field: 14.8 x 13.8
Hoop Name: Mighty Hoop (16.625 x 17.25in)
Part Number: 34861
Sew field: 15.5 x 16.2 in
Hoop Name: Mighty Hoop (19 x 10in)
Part Number: 35250
Sew field: 18 x 9 in
Hoop Name: Mighty Hoop (3 x 9in)
Part Number: 35244
Sew field: 1.8 x 7.7 in
Hoop Name: Mighty Hoop (3.25 x 12in)
Part Number: 35368
Sew field: 2.2 x 11 in
Hoop Name: Mighty Hoop (4.25 x 13in)
Part Number: 34865
Sew field: 3.2 x 12
Hoop Name: Mighty Hoop (4.25 x 16in)
Part Number: 35249
Sew field: 3.2 x 15.2
Hoop Name: Mighty Hoop (4.25 x 4.25in)
Part Number: 34842
Sew field: 3 x 3 in
Hoop Name: Mighty Hoop (5 x 9in)
Part Number: 35245
Sew field: 4.2 x 7.9 in
Hoop Name: Mighty Hoop (5.5 x 5.5in)
Part Number: 34843
Sew field: 4.3 x 4.3 in
Hoop Name: Mighty Hoop (6 x 4in)
Part Number: 35240
Sew field: 4.7 x 2.7 in
Hoop Name: Mighty Hoop (6 x 9in)
Part Number: 35246
Sew field: 4.9 x 7.9 in
Hoop Name: Mighty Hoop (6.5 x 6.5in)
Part Number: 35241
Sew field: 5.4 x 5.4 in
Hoop Name: Mighty Hoop (7.25 x 7.25 in)
Part Number: 34845
Sew field: 6.3 x 6.3 in
Hoop Name: Mighty Hoop (8.25 x 6.25in)
Part Number: 34864
Sew field: 7.2 x 5.2 in
Hoop Name: Mighty Hoop (9 x 8 in)
Part Number: 35246
Sew field: 8.1 x 7.3
Hoop Name: Mighty Hoop (Round 4.375)
Part Number: 34856
Sew field: 3.3in diameter