Always be sure that you have reviewed all of the Basic Troubleshooting Steps before making adjustments to the Sensitivity values below.
Important:  This document applies to Melco OS and Bravo OS beginning with version 11.06.077, released on July 12, 2016, and allows you to adjust the sensitivity of the Thread Sensor. If you are looking for Acti-Feed settings, refer instead to this section of the User's Manual.
The screen below is located under:  Tools - Settings - Machine.  
Find the box labeled TBS Calibration
The default value is:
Sensitivity: 0
If you have just upgraded from an earlier revision of Melco OS 11 or Bravo OS 11, and now encounter real or false thread/bobbin breaks, check for correct bobbin tension. The next step is changing the Sensitivity value as detailed below.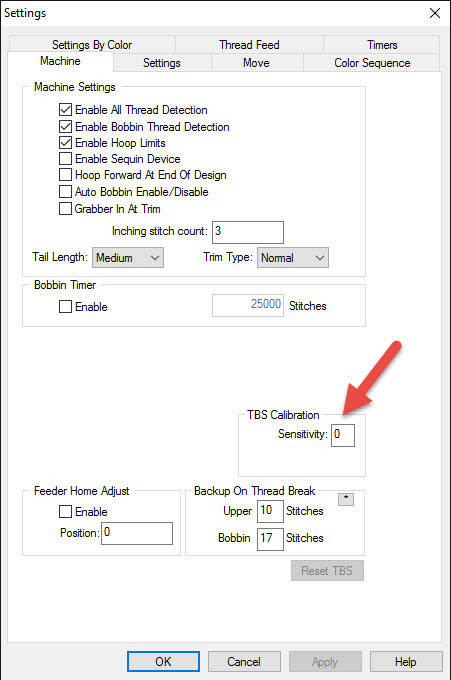 How and When to Adjust this setting:
Sensitivity (Values start at 0 and can range from -100 to 50)          If you are encountering excessive False Thread/Bobbin Breaks, you can increase your Thread Break Sensitivity value in increments of 10.  Start by changing from 0 to 10, then run the machine to determine if the False Thread/Bobbin Breaks are eliminated.  If they continue to occur, you can increase the value to 20 and then run the machine.  That value can continue to be increased by increments of 10 (max value 50) until the False Thread/Bobbin Breaks are eliminated. Finally, test for Real Thread Breaks while sewing by cutting the thread in the area between the Thread Sensor and the Needle to verify that the Thread Break is detected.
If actual thread breaks are not being consistently detected, you can lower the Sensitivity value by increments of 10 until it properly detects thread breaks. Change the value to -10 and start sewing, then cut the thread that's currently being used and observe whether it's immediately detected.  You can continue to decrease that value (-20, -30, etc.) as necessary.
Backup on Thread Break
Upper setting has a maximum of 10 Stitches.
Bobbin setting has a maximum of 17 Stitches.
Didn't find your answer here?  You can also Search the entire Support Knowledgebase / FAQ for solutions.