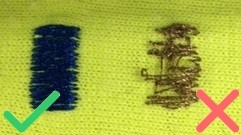 Missed Starts are similar to Slingshots but happen when the Bobbin fails to Tie-in to the Top Thread. If your thread falls out of the Needle Eye when the machine starts to sew, or stops for a False Thread Break, follow the steps below:
1. Update your software to the most recent software version.
2. Check your Bobbin.
3. Check your Presser Foot.
4. Check your Acti-Feed. It is probably set too low.
6. Follow Proper Hooping Techniques to reduce/eliminate flagging.
7. Check your Tail Length OS Setting. If you trimmed the thread with scissors, make sure there is 1 inch of thread hanging out of the Grabber Trap.
8. Set the Inching Stitch Count to default. For EMT16X and EMT16Plus-NPT the default is 2. All other machines' default is 4.
9. Check that the thread is being held in the Grabber Trap after trims. If it's not the Grabber Blade and/or Grabber Trap Assembly might need to be adjusted or replaced.
10. Check the Digitization.
11. Check the Thread Path.
12. Check your Hook Adjustments: EMT16Plus and EMT16 or XTS and XT
13. Inspect the Under Thread Presser Spring. (EMT16X, XTS, XT and Original AMAYA/Big Red Trimmers Only - not all Trimmer Types will have one.)
Note: With EMT16X machines the bobbin should catch in the needle plate and offer slight resistance when trying to take the bobbin out. If it does not you might need to replace the Needle Plate Trimmer Assembly PN# 35075. Contact Melco Technical Support if you think that part might need to be replaced.
EMT16X (above)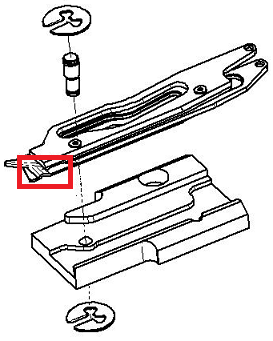 XTS (above)
XT (above)
Original AMAYA / Big Red (above)
14. Make sure a Thread Feed Forward 200 Test completes successfully.
15. A Feeder Profile Test can be performed.
16. Replace your Cutter for EMT16 and EMT16Plus machines, or the Moveable NPT Trimmer Blade for EMT16X and machines which have been upgraded to the NPT system. You can verify for a Damaged EMT16 And EMT16Plus (S95) Cutter or the Moveable NPT Trimmer Blade for EMT16X and machines which have been upgraded to the NPT system.
17. Replace your Rotary Hook: Replacing EMT16Plus and EMT16 Hook or Replacing XT and XTS Hook.
18. If the situation remains unresolved, you will need additional technical assistance. Here are the available Melco Technical Support options.
Check the Take Up Lever Pull Force Check and Adjustment, this is unlikely to be an issue unless there was a Hoop Spike or Clamp Hit.