This article provides steps to address the error:  "This demonstration version of Design Shop has timed out."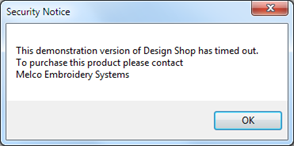 The steps below only apply specifically to DesignShop version 9.00.128 . To check your version, click:  Help > About Design Shop
If you have an earlier version of DesignShop 9 installed, click on: Tools - Check for Updates.   If you have a DesignShop version earlier than Version 9 (ie. DesignShop 7, DesignShop 2005, etc.) contact your Melco Sales Rep to discuss upgrade options to DesignShop v9 or v10.
If you are trying to update to DesignShop v9.00.128 and you get an error 'The installed version of the application could not be determined' follow our Help Center steps to resolve that error. After DesignShop v9.00.128 is correctly installed follow the rest of the steps in this article.
Make sure DesignShop is closed.
If you are running Windows XP, you need to make sure you have Windows XP Service Pack 3 installed.
*If you are using ENS make sure that is installed before applying the patch. 
Run DesignShop to see if the situation is resolved.