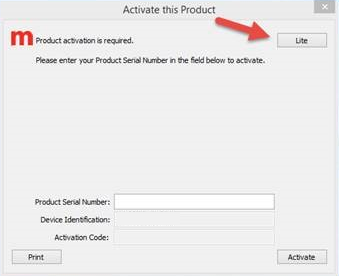 Melco OS software running in Lite mode allows running a single machine, and limits are applied to sew field, sew speed, and various other settings. It will also force the software into the Advanced Interface.
Running Melco OS in Lite mode instead of Flex+ has the following limitations:
Maximum Number of Machines Supported:  1 machine
Maximum Sewing Speed:  1000spm
Maximum Hoop Size Supported:  36 x 30cm (14.25 x 11.75 inches)
Maximum Sew Field:  32.2cm x 26.7cm (12.7 x 10.5 inches)
Conventional Cap Frame (CCF) supported.  WACF not supported.
Melco OS runs in the Flex+ level if a Virtual License or USB Security Dongle is used.