Watch Melco's presentation "All About Appliqué" on Facebook Live and YouTube
Follow-up tutorial on "Appliqué Start to Finish" on Facebook Live and YouTube
Video on Cutting Appliqué Fabric
DesignShop v10 Training Video: Appliqué Input Method
Appliqué or Tackle Twill are designs that are specifically digitized for using fabric instead of stitches to fill in an area of a design. Usually, a pattern is needed.
There are many techniques used to make an appliqué pattern. Below is the process for sewing appliqué on the embroidery machine.
Embroidery:
1. Program an appliqué stop in the color sequence, the machine will stop sewing between the color changes.
2. Sew the appliqué locator stitch (outline stitch) on the fabric.
3. The appliqué fabric is placed on top of the locater stitch (spray adhesive can be used to hold fabric in place).
4. The appliqué tack down stitch is sewn next. This can be a column or a walk element. This stitch is used to hold the fabric down.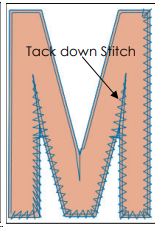 5. If you are trying to create a Tackle Twill aesthetic, remove the appliqué cover stitch from the design. The Tackle Twill is complete.
6. The appliqué cover stitch is sewn after the tack down stitch, this is usually a satin stitch.
7. The appliqué is complete.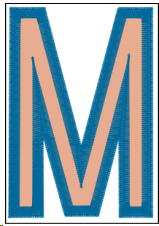 Sample designs can be downloaded below: